Craving some good food? Scroll through the Eco Eats app and order your favorite now.  
You don't need to cook for yourself every day of the week. Sometimes it is alright to go out and get something to eat from your nearest food joint or restaurant. Eating out every once in a while can be viewed as a little treat you give yourself as self-care. In the middle of a busy workday or during a lazy weekend, ordering food often becomes a necessity. 
Brunch – Brunches are ideal for meeting someone new, especially if it is a friendly hangout or a casual date, or a meeting. However, cooking and preparing a full meal for every brunch meet is quite difficult to do so early in the meeting. 
Breakfast is the most important meal of the day. When it comes to your breakfast, one should never compromise with it. Do not skip breakfasts just because you feel too lazy to prepare one. Instead, go to your favorite brunch place and munch on your favorite breakfast item with a glass of fresh fruit juice. 
There are plenty of cafes and restaurants in every city which exclusively serve breakfasts and early brunch meals. Most of these places would offer takeouts for the busy souls of the metropolitans who can only have enough time to grab breakfast while they are on their way to work or classes. 
Lunch– Lunch is when we are at our hungriest. Even if we want to skip it, we simply cannot afford to do that. So spare no effort when you are looking for a restaurant to get your lunch and thanks to our Eco Eats app, you won't need to put in much effort to find your ideal lunch place. 
Lunch should be a big, fulfilling meal. So maybe it is probably best if you stick to the cuisine that brings you comfort. 
Dinner– Dinner is the time where you can explore various cuisines and try out new and unique dishes. For a casual night out, you can go to a conventional diner and relax with your favorite dish. You can also go to a traditional restaurant and try out different cuisine. 
Coffee and snacks- When it comes to coffee and snacks let out your inner restaurant hunter and café hopper in you. If you have time on your hand and want to do something fun, check out all the new cafes and coffee houses near your place. Try out their most unique food items and enjoy them with a cup of coffee. 
Whether you are in a hurry or in the mood to explore new places, order in and enjoy your food.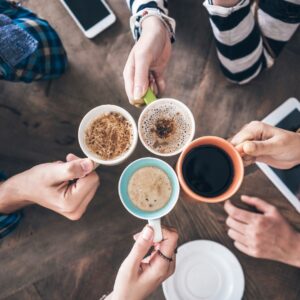 Craving some good food? Scroll through the Eco Eats app and order your favorite now.