Looking for a quick breakfast? Download the Eco Eats app and find Allo Mon Coco near you.
Allo Mon Coco is the perfect destination for all your breakfast needs. They are a family-friendly restaurant chain that specializes in breakfast items, customized favorites, and meals of a variety of ranges.
Their family-friendly restaurant that caters to your every craving. They add a touch of their unique flavors and organic fruits to their menu. They primarily serve as a breakfast place. Their staple dishes are mainly eggs and smashed potatoes. Their food items are simple, fresh, and yet something you probably have never tasted yet.
A sneak peek into the restaurant
The Montreal-based restaurant has several branches scattered throughout Canada. Ideally, it is a brunch place but if one decides to stop by for lunch, dinner, or a quick meal, they wouldn't leave the place dissatisfied. They provide very warm and friendly customer service. Their ambiance is aesthetically pleasing, calm, and family-friendly. However, it is important to note that they usually do not take reservations. The norm is to stand in a queue and wait if there is no vacancy inside the restaurant.
Food items from their menu
Allo Mon Coco offers a wide variety of food items on their menu. One might often get confused as to what to offer on their first visit to this restaurant.
Some of their main dishes are Coco Omelets, Coco Breakfast, Eggs Benedict, Coco Waffles, Thin Crepes, French Toast, Flambles, Gourmet Grilled Cheese, Coco Casserole and other traditional breakfast items.
Popular items on their menu
Some of the most commonly ordered dishes are Guzzler which consists of 2 eggs, bacon, ham, sausages, two buttermilk pancakes, and potatoes and toast. This makes for a fulfilling breakfast. Grilled Cheese 'Philly' is another popular item that comes with an extra helping of steak and eggs. Sunshine consisting of 2 eggs, bacon, and a crepe filled with seasonal fresh fruits and toast is another high-demand breakfast item from the menu, especially if you want something healthy and delicious. Other than these items, you can also opt for Eggs Benedict, Choco Coco Deluxe, and Breakfast Poutine from their menu.
Allo Mon Coco is also famous for serving seasonal fresh fruits as a part of their breakfast menu. If you want to order a fruit-heavy breakfast, you may order Sunshine, Bon Matin which comes with a cup of fresh fruits along with 2 slices of French toast and pancakes. They also serve a cinnamon Danish cut dish with a mountain of fresh fruits on top named Good Morning. Other than these, if you like bagel and cheese, you may also opt for Froma Fruits which consist of a cheese platter with a bagel and a fresh cup of fruits.
Pricing: Allo Mon Coco provides a filling breakfast with more than enough quantity for an individual at a very low price. Within a range of CA$15 to CA$20, you can order any of the items from their menu. They provide a significant quantity which might prove too much for one person and you might have to ask them to pack your leftovers.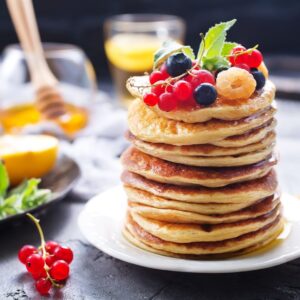 Allo Mon Coco also provides delivery and takeaway services.
If you are looking for a breakfast and brunch place, look no further. Make a stop at Allo Mon Coco to enjoy a hearty breakfast and soak up their calm and friendly a
Looking for a quick breakfast? Download the Eco Eats app and find Allo Mon Coco near you.