Looking for a quick meal? Download the Eco Eats app and find PFKs near you.
 What is PFK?
American fast-food chain is known as PFK or 'Poulet Frit Kentucky' in Quebec, Canada. Under Section 63 of Quebec's French Language Charter, every business enterprise there must be named in French.
What is PFK famous for?
If you have heard of PFK or KFC, you must have heard that they claim their chicken to be 'It's finger-lickin' good'. This makes one wonder how they prepare their chicken. Within a few years, Colonel Sanders, the founder perfected his recipe of '11 herbs and spices. Decades after its launch, we still cannot help but lick our fingers at every bite of PFK chicken. However, the exact recipe of their fried chicken is a trade secret and is not disclosed to the general public.
What do they specialize in?
PFK has got chicken on their food item to satisfy all your cravings. From bite-sized chicken strips and chicken popcorns to delicious chicken wings, PFK has got it all. Other than fried chicken, PFK has also got burgers, zingers, French fries, and a variety of combinations of meals. Whether it is an evening snack or a lunch, PFK has everything you need on their menu. They also offer a variety of cold drinks and shakes.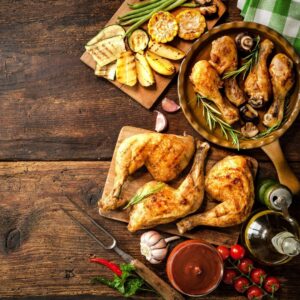 History of PFK
KFC was one of the first American fast-food chains that expanded to Quebec. 'Kentucky Fried Chicken' in an attempt to remove the unhealthy connotation of 'fried food' from their brand name. Later when KFC moved to Quebec, they changed their name to 'Poulet Frit Kentucky' which directly translates to 'Kentucky Fried Chicken'.
Colonel Hartland Sanders started selling fried chicken from his roadside restaurant in Kentucky. Eventually, fried chicken broke through the monopoly that burgers and sandwiches had enjoyed in the spheres of fast food enterprises and garnered nationwide popularity. Soon they expanded to Canada and established PFKs in Quebec. 
How many PFKSs are there in Quebec?
There were almost 14 active branches of KFC in Quebec. However, since last fall the branches have been shutting down, and currently, there is a lesser number of PFKs operating in Quebec right now.
Why you should visit PFK if you are in the area
PFK was born out of the Great Depression era and maybe, that is why cost-effectiveness is one of the key features that they still maintain. PFK offers you a full-filling and mouthwatering meal at a very low price.
PFK will come up with seasonal deals occasionally which will offer you attractive combinations of food items from their menu at an even lower price. It is always worth checking out deals they have got going if you are hungry.
Grass-fed chicken on the horizon- To reduce environmental pollution and maintain an ecological balance around the planet; KFC has recently started investing in grass-fed chicken.
Looking for a quick meal? Download the Eco Eats app and find all the KFCs near you.