Looking for a cup of tea and a good time? Download the Eco Eats app and find Chatime near you.
Chatime is a store dedicated to tea-lovers who are looking for a good time at the end of a busy day. It is hard to resist the sweet pleasure of bubbles exploding in your mouth at every sip of your flavored bubble tea. Chatime serves a variety of flavored tea with bubble ea as their most popular item. 
 Let us take a look at their menu
Chatime brews all your favorite tea beverages and has something for everyone. 
If you have a sweet tooth and have taste for a lighter brew, then you can try their Signature milk tea. You can choose any of their base tea and have it made with Signature, Fresh Milk, or Oat Milk. They also serve toppings of Brown Sugar, Crystal Boba, Grass Jelly, Pearls, Pudding, Sago, and Sea Salt Crema to give your taste bud a heavenly delight and make your tea experience all the more delicious.
Chatime also offers a variety of flavors for your milk tea. You can opt for Chocolate Malt Milk Tea, Hazelnut Milk Tea, Honeydew Milk Tea, or Salted Caramel Milk Tea. 
They also serve Jelly and Juice drinks which contain both pearls and coconut jelly. This brings you the exciting taste of pearls, jelly, and passion fruit seeds. You can have your drinks in grapefruit, lychee, mango, passion fruit, peach, and strawberry flavor with mouthwatering QQ toppings. They also offer smoothies and slushies if you need to catch a break from a hot summer day. 
Brown Sugar Pearls with Milk Tea is another favorite among the customers. It gives you the richness of salted caramel with a decadent taste of brown sugar pearl. Other than this, you may also opt for their specialty drinks, which are Candied Winter Melon Iced tea, Candied Winter Melon ate, Chocolate Hazelnut Delight, Handcrafted Taro, and Thai Milk Tea. Their specialties bring you a riot of unique colors and savoring taste for you to choose from.  
Prices
Most of their drinks are quite affordable to the general public. It is their accessibility and affordability that make their franchise such a hit across continents. 
History of Chatime
Chatime is a Taiwanese global teahouse chain based in Zhubei. This traditional yet unique tea drinking establishment was founded by Henry Wang Yao-Hui. They specialize in bubble tea and other types of flavored tea. The uniqueness in the taste of bubble tea and Chatime's ability to make them accessible and affordable to the general crowd helped them expand their franchise throughout the world. Their best-selling drink is the "pearl" milk tea. 
Chatime was founded almost 16 years ago, in 2005 in Zhubei, Hsinchu County, Taiwan. Soon they found a dedicated customer base for their bubble tea and became successful enough to expand their brand across the world.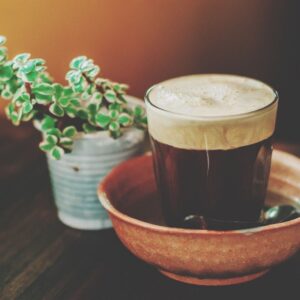 How many Chatime stores are there in the world?
Chatime opened up their first showroom outside Taiwan, in California. Since then, they have expanded to China, Malaysia, Canada, Bangladesh, India, the Philippines, Cambodia, Thailand, Australia, New Zealand, Japan, and many other countries.  As of December 2008, there are 2500 in 38 countries of the world. They found success in both traditional tea-drinking countries like China, India, and Bangladesh as well as non- tea-drinking countries in the West. 
In Canada, there are around 81 Chatime showrooms across the country with more than 40 showrooms in Ontario itself. 
No matter what you are craving or what you are in the mood for, Chatime has got something for everyone at all times. Their bubble tea and friendly customer service are always ready to make sure you have a good time with Chatime. 
Looking for a cup of tea and a good time? Download the Eco Eats app and find Chatime near you.