Do you know how powerful it is to drink some Coconut and Collagen for a workout?
Protein powder or some other Whey are known as great things for those who are fans of working out though, I'll introduce that Coconut and Collagen are another option that you can take.
Collagen is a type of protein and has a decent amount of protein for working out and faster recovery after workouts because of collagen's ability to help repair muscles.
Coconut milk is also great for heart health, building muscle and helping your body lose weight. it's really easy to make this fit your diet.
Not only benefits from workout but also you can get benefit of beauty,
It has a lot of nutrients, including collagen peptides to increase your skin health
And It can boost the skin's elasticity, support hair, nail, skin, keep healthy
As you know, there are so many benefits that Normally, a lot of people are missing out on from their every day workout and diet.
Personally, I don't usually take any powder or drink protein shakes after a workout.
I'd prefer to eat crunchy food.
So, I've been taking some smoothie or drinks which are included Collagen, Coconut
since I found out about all the benefits from Collagen
Workout Summer Bowl 40 minutes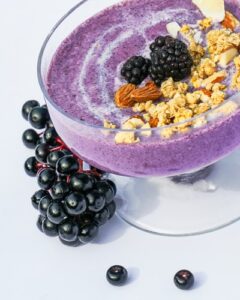 1cup Unsweetened Coconut Flakes
1/4cup Coconut Oil (melted)
1/2cup Sunflower Seed Butter
1cup Unsweetened Coconut Yogurt
Preheat the oven to 300ºF (149ºC). Line a large baking sheet with parchment paper.

To create the paleo granola, combine all ingredients (except yogurt, collagen and berries) together in a large mixing bowl. Mix very well until all ingredients are evenly distributed. Using your hands works best! Spread the mixture evenly across the baking sheet.

Bake for 30 minutes, giving a stir at the 15 minute mark.

Remove from oven and let cool completely.

Add collagen powder to coconut yogurt in a bowl. Sir well until thoroughly mixed.

Sprinkle granola on top and add fresh blueberries. Enjoy!
Storage: Store in a mason jar or airtight container in the fridge for up to 1 week.
Serving Size: One serving is roughly 1/4 cup of granola.
Nut Allergy: Use sesame seeds instead of slivered almonds.
Eco Eats starts with creative storytellers who love to make food, get the grub the love to eat and oh – be healthy!
With us, this happens every day, and now you get to see, eat and make the kind of and smoothies you love! Follow us on Instagram and Twitter and see if there's anything and get the food you love at your fingertips!