Here are 5 easy snack ideas that you can whip up in pretty much less than 5 minutes to keep your tummies happy and healthy!
¼ cup of Nutella chocolate hazelnut spread
Place the tortillas on a cutting board and spread with Nutella.
Peel the bananas and lay 1 on the edge of the tortilla.
Roll the banana up with the tortilla.
Slice into rounds and arrange on a plate with the cut edge facing up.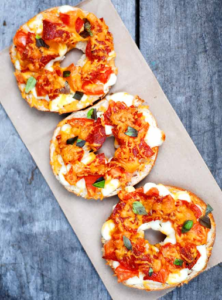 Serves 2 adults/4 children
½ cup of pizza sauce/passata
1 cup of shredded mozzarella or Cheddar cheese (6 oz)
Toppings of your choice: Sliced pepperoni, chopped bell pepper, sliced mushrooms, or cooked sausage, if desired for toppings
Heat oven to 425°F. Spread 1 tablespoon pizza sauce over each bagel half. Sprinkle each with cheese and desired toppings. Place on an ungreased baking sheet.
Bake for 5 to 10 minutes or until the cheese is melted. Enjoy!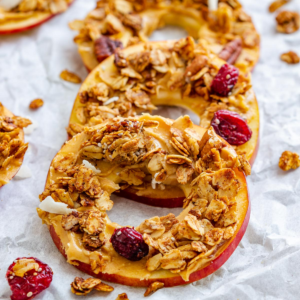 4 Apples (choose whatever is in season or your favorite)
1 cup of yogurt of your choice
Wash apples and, using an apple corer, cut out the middle.
Slice the apples into thin rings (about 5mm thick)
Use the yogurt and peanut butter as a base, then sprinkle over the granola and dried fruit.
Get creative and use different toppings if you like!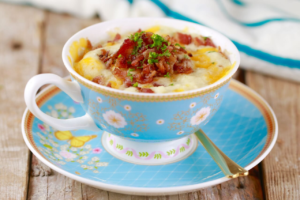 ½ teaspoon onion powder (optional)
½ tablespoon (1/4 oz/ 9g) butter, cubed
3½ tablespoons milk (or buttermilk)
In a microwavable mug, mix together the flour, baking powder, onion powder, and salt
Using your fork, incorporate the cubed butter into the dry ingredients. When done it will resemble fine breadcrumbs.
Stir in the milk, bacon, and cheese until your mix forms a batter
Microwave for roughly 45 seconds – 1 minute (this timing is based on my 1200W microwave so yours might vary)
*cooking time will depend on the power of the microwave and the size of the mug. Make sure to check the mug is microwavable before using it.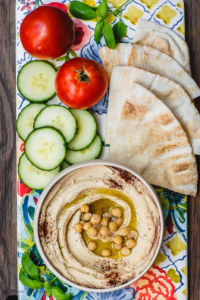 3 cups cooked chickpeas (optional – peeled*)
1 to 2 garlic cloves, minced
⅓ cup (79 grams) tahini paste
Early Harvest Greek extra virgin olive oil
Add chickpeas and minced garlic to the bowl of a food processor. Puree until smooth.
While the processor is running, add ice cubes, tahini, salt, and lemon juice. Blend for about 4 minutes or so. Check, and if the consistency is too thick still, run the processor and slowly add a little hot water. Blend until you reach desired silky smooth consistency.
Spread in a serving bowl and add a generous drizzle of Early Harvest EVOO. Add a few chickpeas to the middle, if you like. Sprinkle sumac on top.
Enjoy with warm pita wedges and your favorite veggies.
*to make peeling chickpeas easier, simply boil them for 5 mins in water with 1/4tsp of baking powder. Then when drained, rub them between your hands under running water and the skins should easily peel off. It makes for a smoother hummus.