This amazing recipe is brought to you buy Kippies, and we couldn't help but see great food and want to share it with you. Keep reading and you can make this Irresistible Food Board too!
Let's be honest, everyone loves a beautiful board full of food. There are so many ways to create food boards, and nothing you put on it can ever be wrong. We love to make several kinds of dips first, and then we just throw everything we find on it. Key elements are always colorful veggies or fruits, some nuts and seeds, cheese (Feta is great for example), if you are not vegan, and olives. Mint leaves and edible flowers give the finishing touch.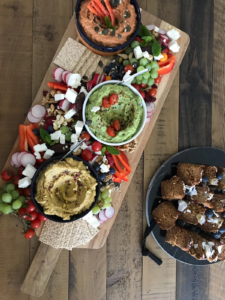 Some of their favorite dips are Hummus and Guacamole. And this is your Kippie recipe!
400G CHICKPEAS, COOKED (LEAVE SOME FOR DECORATON)
1 TEASPOON RED CHILLI FLAKES
1 TABLESPOON APPLE CIDER VINEGAR
1 SMALL HANDFULL OF FRESH CILANTRO, CHOPPED
1 TEASPOON OF GROUND CUMIN
MIX EVERYTHING UNTIL SMOOTH IN A FOOD PROCESSOR OR BLENDER. ADD WATER IF YOU LIKE A LESS THICK CONSISTENCY. PUT INTO YOUR FAVORITE BOWL.
FOR DECORATION, SMOOTH EVRYTHING OUT WITH A SPOON. DRIZZLE SOME OLIVE OIL OR TAHINI ON TOP, ADD LEFTOVER CHICKPEAS AND SOME CHILI FLAKES.
JUICE OF 1 BIG OR 2 SMALL LIMES
1 BIG TOMATO (REMOVE THE LIQUID)
SALT AND PEPPER AS NEEDED
BLACK SESAME SEEDS (FOR DECORATION)
CHILI FLAKES (FOR DECORATION)
SMASH EVERYTHING WITH A HAND BLENDER. PUT INTO A BOWL AND DECORATE WITH A SLICE OF LIME, CHILI FLAKES AND BLACK SESAME SEEDS.

This page is brought to you by Kippies Food creators: Isabelle and Alyssa.
Want more of their amazing eats? Click
here
to see more of Kippies great foods on their Instagram page. Or email thekippiesfood@gmail.com and they'll be happy to connect with you!