On Saturday May 11th, Eco Eats joined the 24th Annual Stone Soup Festival with several community members. We got to meet a vegan cinnamon bun company called
Flour baking girl
. With their online store you can check them out and grab your next bun. There's also some other must mentions including
Spirit Bear Coffee Company
,
Morgan Made
handmade original scarfs using leaves and organic dies (a scarf custom must),
wonky clay pots
,
check your head
an youth empowerment organization and many others like freshroots.ca!
What brought everyone together was
Britannia Community Center
in the heart of East Vancouver. Where their mission is to develop, coordinate and support a wide range of excellent programs and services for Grandview-Woodland and Strathcona by working with community members, partners and local agencies. Fun fact, Eco Eats founder used to go to high-school and work there. Another neat element of the soup festival is they hand out free soups throughout the day, have an excellent performance. And we learned the history stone soup festival is based around someone going hungry. So he invited neighbours to make a soup together that would be shared and of course (he could eat!). With success it stuck and the festival grew and that is a part of the story behind stone soup festival.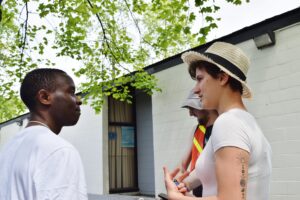 Here is this photo we have Bonface, our 6th year MBA onboarding specialist from UBC and connecting with people talking about food security, our surprise alpha app and how we make an impact for the community. The team took turns speaking to people and doing a walk about to meet other vendors and people in the community.
Here is a fun shot of the band just doing their thing and loving it. They also made a parade and invited parents and children to join the fun stroll. Reach out to admin@ecoeats.ca for questions and we'll be happy to help you!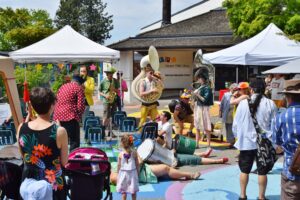 Photo credits: Jeanne Chen. For PR and Communications opportunities contact j.chen@ecoeats.ca