Craving for a nice and warm cup of coffee?  Download the Eco Eats app and scroll through all your favorite cafés near you. 
A sweet and bitter mug of coffee is like a warm hug which calms you amidst the chaos. While the caffeine sets the mood that carries you into work or reverie, it is the set up of the room that provides you with comfort as if at home. It can start a conversation, make a mundane date interesting or even help you get over a bad day at work. 
Here is a list of some of the best coffee shops across Canada that not only put some real thought into the art of making and serving coffee but also evoke an overwhelming sense of home.
Coffee near You
Dineen Coffee Co. , Toronto
Dineen Coffee is a boutique coffee house at the crook of the renowned Yonge Street and Temperance Street in downtown Toronto. This big, bold cafe first opened its doors in spring 2013. From Lattes and Cortados to iced mocha and espresso, their menu has everything covered. Pair it with one of their delicious snacks to get your day started.
The Pikolo Espresso Bar, Montreal
With a decor and ambience that oozes charm, the Pikolo Espresso Bar is inspired by the coffee culture of Australia. The drinks at Pikolo are crafted with a goal to showcase the real intrinsic taste of individual coffees. Often paired with homemade pastries, the cafe offers everything needed for a quick stop on the way to work or a catch-up with an old friend.
Cafe Crepe, Vancouver
About 3 minute walk-in distance from the Vancouver Art Gallery is this busy little cafe with a genuine french feel. Café Crêpe, with its Parisian crêpes, French baguette sandwiches, and exemplary Lavazza coffee, imports the ethos of the classic European café to Canada. It is a perfect place to enjoy an intimate breakfast or lunch with family and friends.
Monogram Coffee, Calgary
With cafes at three different locations in Calgary, Monogram cafes are designed to be community spaces that celebrate the diverse people, character and neighbourhoods that they are in. Their menu features house roasted espresso,freshly brewed filter coffee and homemade pastries which is the perfect end to a busy work day.
Lucky Penny Coffee Co., Halifax
Open since September 2017, this sweet and adorably decorated Quinpool cafe is like a comfortable home away from home and work for West End residents. It serves strong coffee, tea, freshly baked treats and grilled sandwiches. With its bold floral wallpaper and instagrammable decor, this beautiful cafe undoubtedly deserves a spot as one of the best coffee shops in Canada.
Tim Hortons, Toronto
Based in Toronto, Tim Hortons is the ideal place to relish immaculately brewed coffee. The coffee here is actually made from 100% Arabica beans from one of the most noted growing areas of the world. The menu includes a wide range of specialty drinks such as lattes, cappuccinos, espresso, hot chocolate, and tea and scrumptious baked goods, like donuts, cookies, muffins, etc. 
So don't curb your coffee craving. Just go to your favorite cafe and serve yourself with a warm cup of coffee.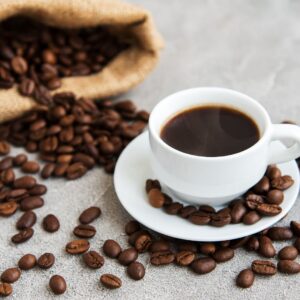 Bon Appétit!
Craving for a nice and warm cup of coffee?  Download the Eco Eats app and scroll through all your favorite cafés near you.